CORONAVIRUS (COVID 19): Our number one priority at Desert Auto Body is to keep our clients, team members, and their families safe. As a precautionary measure, we have implemented increased hygiene standards including hand washing, and sanitizing before and after each customer visit. We will continue to follow all recommendations of our local, state, and federal officials.
DEFINE YOUR RIDE JUST HOW YOU WANT IT
At Desert Auto Body in North Las Vegas, we get that a car just isn't yours until you've done something to spice it up. Straight off the lot from the dealer, it doesn't matter which make or model you choose — it's just like every other one of its kind. With the right car customizations, your vehicle becomes like an extension of your identity. For die-hard car or truck enthusiasts, you get what we're saying. Not sure if car customization is for you? Reach out for some examples of what our technicians can do. You may just find that a few modifications can take your car from something you drive to something you love. We can even restore worn or vintage vehicles to their former glory — plus add some extras, if you're interested. Just contact us to get started!
WHY CHOOSE DESERT AUTO BODY FOR YOUR CAR CUSTOMIZATION?
Expert technicians can achieve the look you want
We'll treat you and your vehicle with respect
Full transparency every step of the way — no modifications you didn't ask for
From-scratch car customization for a totally unique look
Professional kit installation for effortless results
We never compromise the structural integrity of your vehicle
Fair prices on every project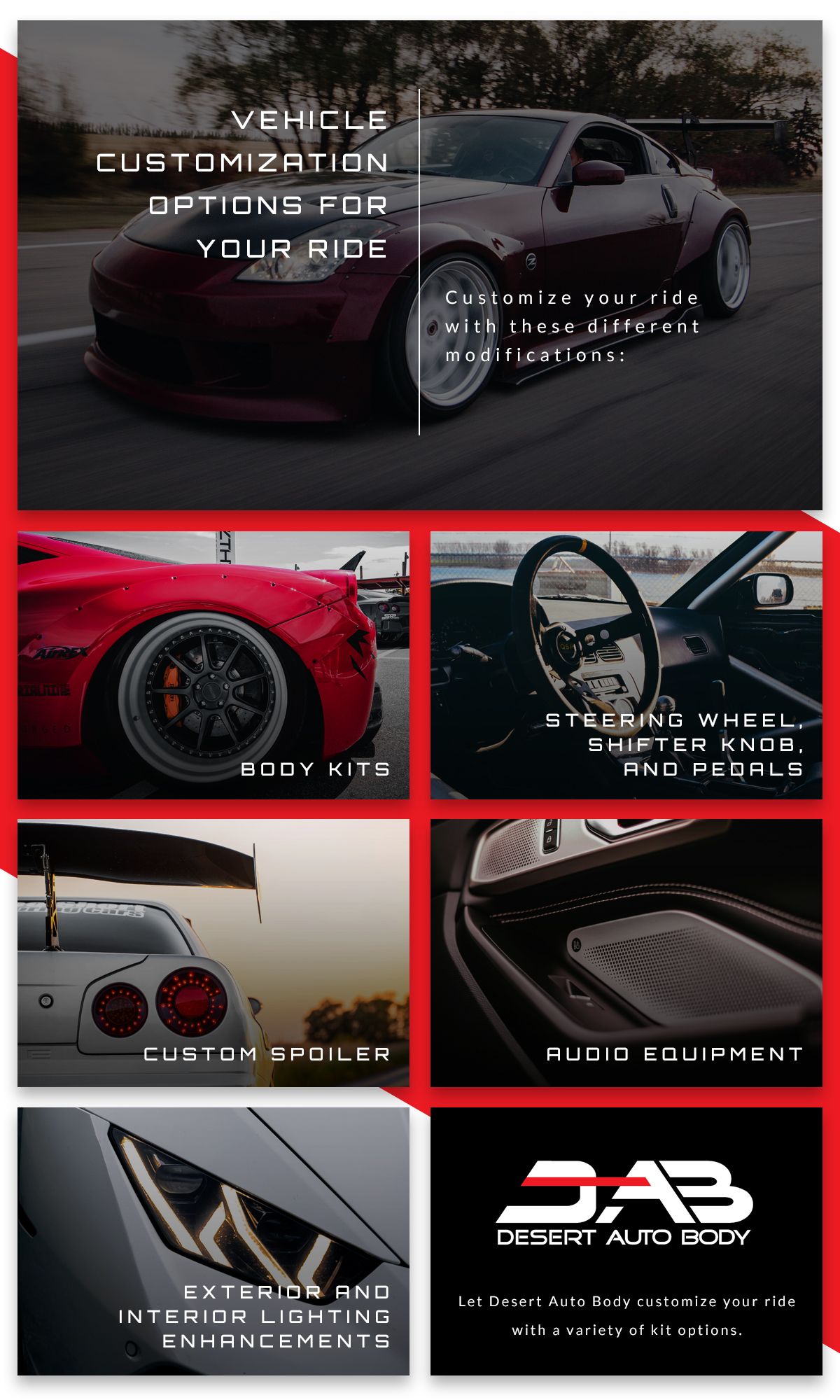 PREMIERE CAR CUSTOMIZATION FOR NORTH LAS VEGAS
When you repair and repaint damaged car bodies for a living, modifications are like a walk in the park. The team at Desert Auto Body is proud to offer car owners world-class customization services. Whether you want a kit installed correctly or you want to start from scratch, we are the team for you!
When it comes to aftermarket modifications and customizations, structural integrity is just as important as aesthetics, and you need experts who will ensure you get the best of both worlds. Our highly trained car customization experts have the know-how to get the job done right the first time, ensuring your vehicle will not only look great but function at the top of its game as well. We bring world-class equipment and proven techniques to the table, carefully attending to each detail to make sure the results surpass your expectations.
Choosing an auto body team can be stressful, but it doesn't have to be. Let the technicians at Desert Auto Body take care of you! We pride ourselves on being the team who cares just as much for our customers as we do their cars, so we always charge fair prices and keep you up to date on how things are going. For loyalty, transparency, and care, choose Desert Auto Body. Contact us today to get a free estimate.
GET A FREE ESTIMATE